It's been a week since I left you sitting looking at that sunset. As with any week in my life every day is the emotional polar opposite of the day before with new adventures by the minute.
Friday morning Tricia and I headed off to Metrolina Expo. I've been trying to make sure everything that Hielan does (other than the photo paper) is recycled or repurposed. Neither of us has been to the Expo and headed off to North Charlotte with a basic knowledge of where it's held and the knowledge they have "old stuff". I'd looked at a map of the Expo and decided the people who rented the "inside" booths had paid actual money so they knew the stuff they had and you would pay considerably more. Then again their stuff will be restored to the standard. There are outside booths which are inside "car garage" areas (with roll up doors). Shelter but not climate controlled so it would be cheaper (if not scattered is if designed by Lewis Carol on opiates). Then there are the people set up on the grass; these people have cheap stuff but you have to be careful and know it's not restored. These people pulled it from the barn and it's sold as is. What we didn't expect were permanent buildings with stores. We decided right off those would cost the most so we would avoid them (this is said in "anticipatory irony" font)
We strolled through the climate controlled area and were correct... high priced but nice things. A good place to start to get a gauge on prices and a look at antiques we knew were quality. We didn't buy anything in there and I didn't snap photos. Pretty stuff. If you don't want to have to redo something then head there. It's lovely.
We headed outside. Friday was the day during and right after those horrid storms. There were still cells of storm in the morning (we got there at 9) but by noon it had passed. It hindered the sellers a bit and the ones on the grass couldn't even set up. The things that were left in the rain were discounted per the sellers discretion.
The outside areas were amazing. They had everything from "fresh from the barn" to "moderately restored" to "no clue what it is but it's old". It reminded me of my Great Aunt Millsey's post-depression house. Some of it reminded me of what it would be like if it weren't cared about for 30-40 years and some of it reminded me of the era. Some areas were set up modest but clean. Quilts were scattered around and there were old huge ashtrays filled with odds and ends. I use to love those. My uncle Paul would have one on a dresser that had everything from a pocket knife to change, from buttons to pieces of starlight mint. They didn't throw anything away and you never knew what you'd find. This was like that and it was an actual representation of the stuff I could have found. There were antique toys and war medals and military memorabilia and telephone chairs and old bolt-down desks. There were vintage ads and milk bottles (there was even one paper milk carton and the image of 40 years of bacteria danced in my head). I was looking for a desk and had "vintage" as the only image in my mind and this place had my eyes and brain bouncing from place to place. We wandered and, to be honest, had too much fun stuck in the world of our grandparents. She found a big ole tin lamb butter mold that moved her to pounce and I found a desk that caught my eye.
Representation of mold - not actual mold purchased
THIS was what Tricia Noti adored. It's a happy lamb butter mold. I'll be damned if I thought one of my friends would mold butter but Tricia Noti is the type that does what she wants so who knows
:D

actual desk I loved.
And another he had on the truck but that was FRESH out of the barn and a bit much for me to handle my first time out.
I didn't get the little one because it was only about 3 feet across so work with frames on top of the desk would be impossible.
This one excited my brain but Scott texted back with a WTH IS THAT? I have to agree it's rather large and would have to go in a larger space. It's an old rolling work area from a mill. I could make the back into a display. See? SEE? Ok it's 7' and 300 lbs but come on...
Anyway didn't get that one either for some reason.
These I looked at for Ella to use as a vanity (redone - that blue stripe is interesting but not Ella I'm sure)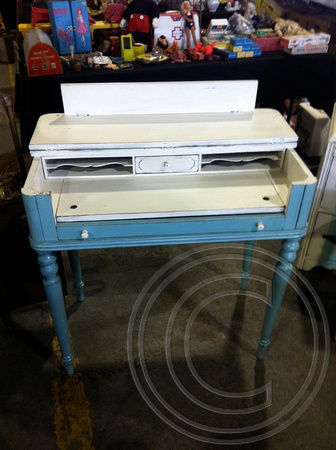 Then turned back to finding my desk.
wanted this one but was way too long
REALLY wanted this but already have one.
Ok. By now we are at the "stores outside that have to be too expensive and we won't go in there" and as you would have it, I found something I liked and set about mixing and matching from an AWESOME lady Tammy.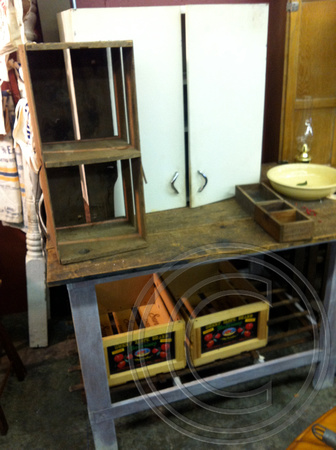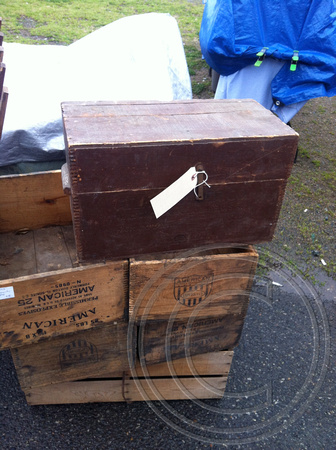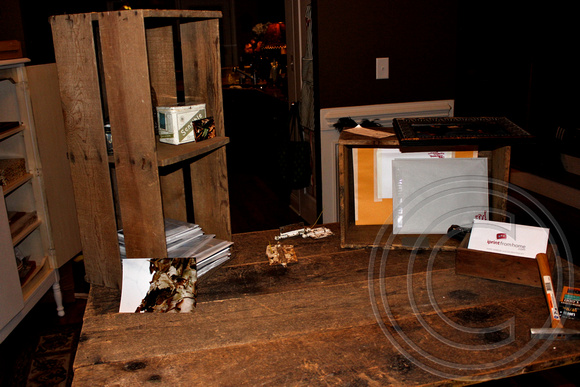 In the end I got it all for under $160 dollars or something and Tricia went home with a cast iron stove toy, an old Dutch jug and her lamb mold and I went home with a desk, 5 old explosives boxes, 3 smaller boxes and some old money for Scott. If you can get to the Expo GO. It's a fun day and it's almost guaranteed you will see something from your youth. Anyways I'm really tired of typing I'd be amazed if you're still reading.
Later I'll get to the James Bond, Hooters, and the Tummy Virus